Joos's journal
13-01-2020
We are held
Sometimes the masculine appears in my paintings, even though I intend to paint the feminine.
Two years ago I started this painting, and when I saw the image I didn't like it at first, but I could not do much about it.
In the meantime, my life has changed. My dear husband died.
The painting offers me comfort, because I see that he is in safe hands.
I also realize the importance of the masculine power that is part of me: The capacity of manifesting in the world, of bringing forward my deeper longings.
To not only listen to my desires, but also take initiative to bring them into form.
A new road has opened. I'm curious.
03-11-2019
Moon priestess
The wish to paint ever more freely from the inside is still here and leads to experimenting with new ways.
I made this painting during a Moon Magic course with Michal Shamoni.
The substrate was made rough with pumice stone gel and glass bead gel.
The woman is the connection between light and dark and between the right hand and the left.
It is a warm painting.
19-10-2019
School
At times life is a school where we learn to remain peaceful and calm, even though circumstances are difficult.
I see this in my own life with a spouse who has dementia and overcoming stress was also one of the themes of a forum for mothers of SOS Children's Villages in Uganda.
I was there to teach painting.
As a mother, we tend to occupy ourselves with the others and during the forum the mothers were the ones who received the attention.
It was a rich, instructive, inspiring experience.
We concluded that we have grown more empowered as we have overcome difficult circumstances.
23-07-2019
The Art of Allowing
Both in our daily lives and in painting we can practise The Art of Allowing.
We do not have much to say about what happens to us and tomorrow everything may be different.
Opening myself for this is the challenge and through painting I practise to follow my heart and learn to allow what wants to happen.
I made this painting when I taught the method to someone else and the image reminds us to receive what's good.
She looks contemplative to me and expresses how I feel.
09-05-2019
Beyond words
I made this painting in one day, as a preparation for a one day painting lesson I am going to give.
I used loose brushstrokes and it feels to me that the image is beyond words.
The bird above her head appeared by itself.
17-04-2019
Calm presence
This painting was made by me while I taught the Art of Allowing to someone else.
I enjoy her calm presence.
She teaches me the beauty of imperfection and comforts me that doing less is good enough.
04-03-2019
Silent knowing
18-02-2019
Victory
This painting is an attempt to a style of abstract expressionism.
I needed to overcome old fears before I could paint her.
That is why I gave her the name Victory.
22-01-2019
One plus one is more than two
What I like most about the painting process is the irrational aspect.
Why do I paint a bird on her shoulder?
Only after doing that am I aware that this painting is about the fact that the bird and the woman share the same space.
I experience how powerful this is, because of the connection.
One plus one is more than two.
That is not rational either, but we can easily sympathize with this idea.
23-12-2018
Halfway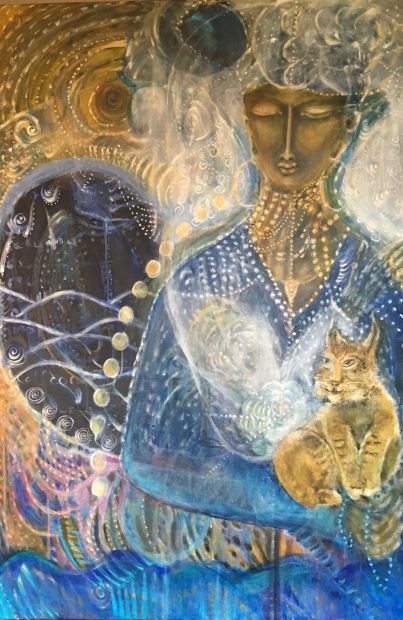 Making this painting will take another year, because Shiloh planned it so.
I'm curious.
It is mysterious not to know beforehand what is going to happen, but in fact that is also true in life.
It is evidently my path to want to express this.