Joos's journal
13-06-2022
Love envelops me like a protective cloak
Love envelops me like a protective cloak.
This is idea 87 from my book Wholeness Complete.
It dawns on me ever more that I can be completely how I am in all my humanity.
Sad, angry, jealous, indignant, critical, insecure, timid, afraid to fail in the eyes of the people around me because I think I'm not living up to their expectations…
Everything is good.
The conviction that I should be different from the way I feel is so deeply imprinted.
I let today's idea sink in deeply and feel relieved.
11-05-2022
Sea Goddess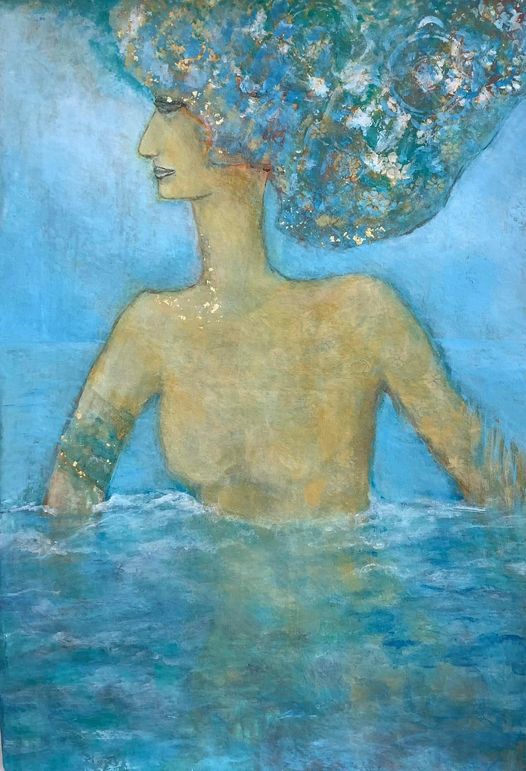 Painting Sea Goddess was a transformative process.
The swans on her head were there from the beginning.
In addition to water, there came also the fire of the snake.
And the night became day.
02-05-2022
Yearning
In my deepest being, I feel a desire to be intimate with someone.
It's a great power that manifests itself in negative thoughts when I don't listen to her.
She is different from mourning the death of my dear husband.
It is a desire to be close to you, to enjoy your company, to travel through life together.
Should I dismiss this desire as dependence, attachment?
No, I have the feeling that the fulfillment of this desire is the most beautiful occurrence that could happen to me.
I cherish this great power...
20-03-2022
Wholeness Complete
Because there is no paper version of my book Wholeness Complete in Spanish, I bought it through Amazon.com.
Every day I follow an idea. Because, even though I wrote the book myself, the lessons are forever.
The Spanish language opens up my romantic side. I enjoy the Spanish text and the words penetrate even deeper into me.
I am now at idea 5: I live in a world of duality. Each pole has its opposite. I am both one pole and the other.
Yes, we are whole…
11-02-2022
Out of this situation only good will come
While reading the book 'Life loves you' by Louise Hay and Robert Bolden, I am aware how many times I unconsciously have had negative thoughts and fears about the slow recovery after my hip surgery.
That's why I decide to change my 'mantra' into a positive thought: Out of this situation only good will come.
I let this text penetrate deep into me.
So that's having trust.
The new point of view makes me happy.
28-01-2022
Water guardian
Finally I made a big painting again.
I had decorated her headdress with metallic gold paper but could not continue painting until I had bought gold leaf to adorn her. She truly wanted gold. Very special.
Her message was: Have trust. You are in good hands.
Last night I contemplated these words before I fell asleep.
31-12-2021
Song to the Mother Spirit
Finally I feel inspired to paint again.
And also to write.
The image is a watercolor, following an illustration by Carol Grigg from my book 'Wholeness'. She called her painting 'Song to the Mother Spirit'.
Maybe we need the 'Mother Spirit' very much on earth.
I wish all my readers a happy end of the year and more joy and freedom for 2022.
05-12-2021
Peace and surrender
Yesterday a loyal visitor of my website came to visit to buy a painting.
He asked me, "Why don't you write? You last wrote in the diary in September."
I replied that there is not much to write, because I still have pain in my back after my hip surgery, so I take it easy.
His response was, "We'd like to know how you're doing."
Apparently, physical discomfort is also news to write about.
Even though I can't stand long enough to paint and I prefer to sit on the couch.
My spirit still feels young and is always inspired to learn something new.
So yes, peace and surrender are here.
And that feels like a great asset in this world that seems to be spinning faster and faster.
12-09-2021
When I am in Spain
When I am in Spain often an emotional event happens that unbalances me.
It is as if the forces there are greater than when I am in the Netherlands.
My reaction then is to start worrying about things that I can't do much about and therefore my thinking starts working overtime.
This will be the case until I remember the last sentence from my book Wholeness Complete.
It says: What is your deepest wish?
The answer to this inquiry helps me to remember how I want to be.
By making an intention out of this, the focus and balance come back into my life and I stand stronger in my own shoes then.
22-08-2021
New owner
Today I brought this painting to her new owner.
She has been given a beautiful place, where she comes into her own.
The gold of the painting reflects the sunlight.
I am very happy when someone appreciates my work.