Joos's journal
03-09-2023
Reflecting on the moon
When I make a new painting, I don't start with a plan.
I apply paint to the canvas and see what forms appear.
It feels like a cooperation between the shapes and colours and me.
Although this time I was surprised by the result, I recognized it.
It expresses my need to turn inward.
"Reflecting on the moon" is the name of the painting.
06-08-2023
A deeper voice
I cherish my melancholy self on this quiet Sunday in August.
A deeper voice inside me is heard in whispered tone.
I want to give her space and listen deeply to her needs, her wants.
Will she hear my welcome?
'This is it', she says.
30-06-2023
New painting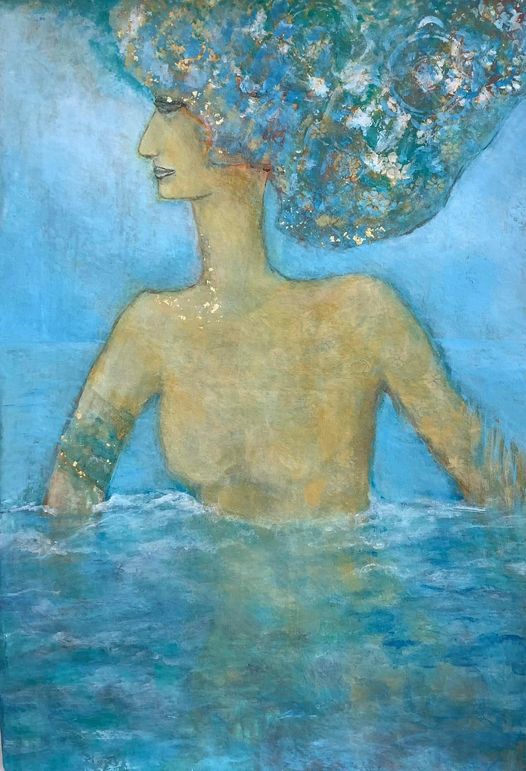 It was warm in Spain and in the afternoon I stayed inside to paint.
Since I am an expressive painter I never know exactly what will happen.
I started with earthly colors, but during the week a fierce energy took over.
The water, and the blue of the sky appeared on the canvas.
Here is the result.
She will have a spot at the entrance of the house.
I look forward to being welcomed by her the next time I go to Spain.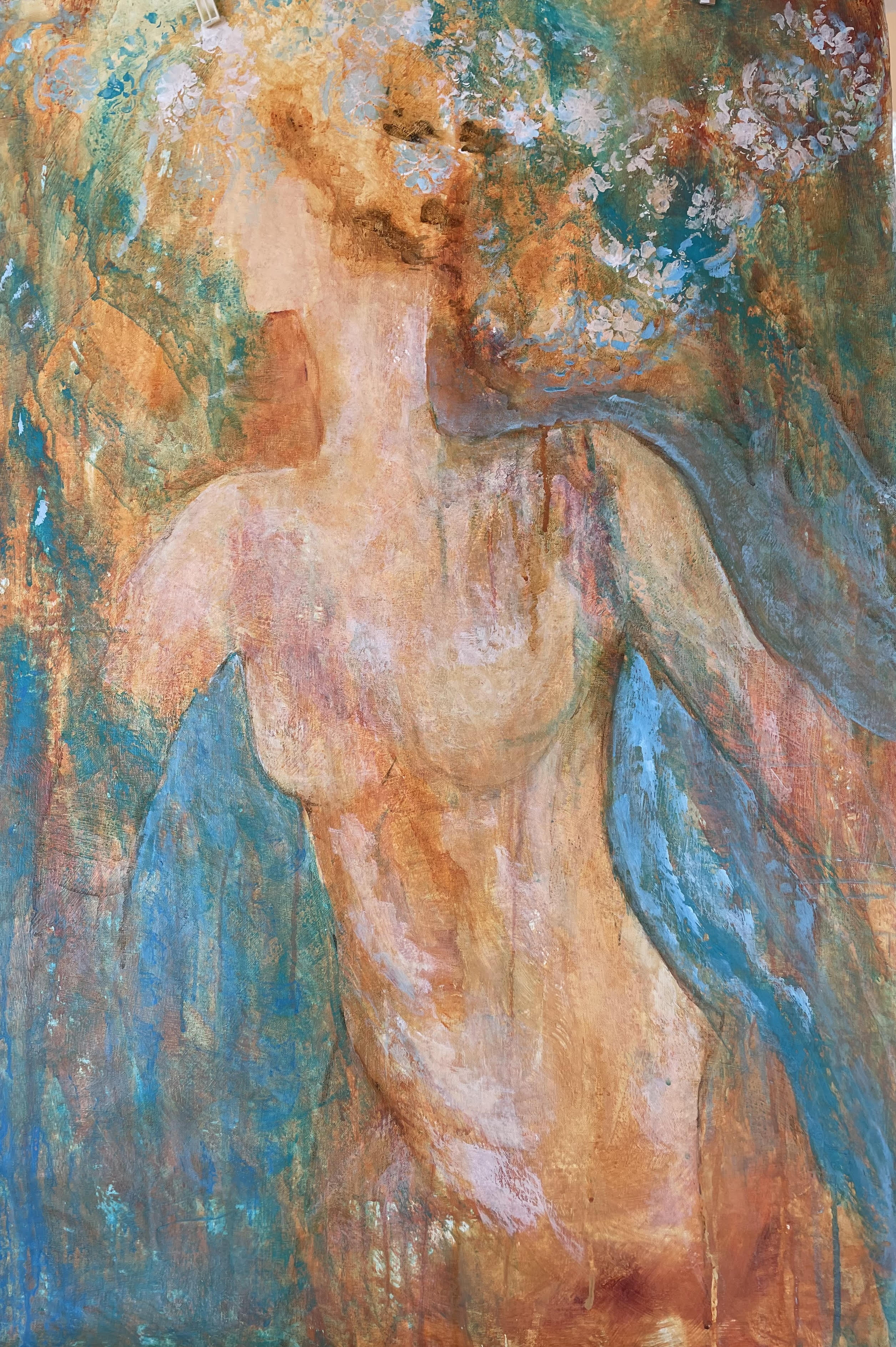 This is the underpainting for the final version.
Fortunately I took a photograph.
I will have a print of the image made on canvas, so that I can have her near...
04-06-2023
It's the little things that matter
In the waiting room of a chiropractor who occasionally straightens my hips, my gaze fell on a local newspaper and I was surprised that I could read the letters without difficulty.
They were larger and darker than those of the national newspaper I was subscribed to.
Within a few days I had switched the subscriptions.
And now, while having a cup of coffee, I enjoy absorbing the down to earth articles that I am reading with more ease.
I also feel how hard it has been for me to just follow the headlines.
How I had blamed myself for not reading more, as if I were disinterested and superficial.
This touches me…
26-04-2023
Aging
As I get older, I have more often the feeling that I'm busy.
The longing for silence grows.
Today I had a quiet day with a program that left room to just run errands, drink coffee and enjoy music that I like.
And then, finally, I found the joy of starting a few new paintings.
For my thinking mind, painting is not so important.
But my inner being longs to reveal herself by splashing paint in freedom.
I welcome this creative power inside myself.
It is a desire to express my deeper motives, searching for form.
05-04-2023
The mystery
I am sitting on the terrace of my house in Spain.
The wind blows through my hair and I listen to the roar of the ocean.
Such a beautiful place from where I can see how great the forces are between the approaching waves and the sand of the beach.
My body enjoys looking at the white foam of the surf.
The sun is shining brightly.
I feel part of the mystery.
The mystery that cannot be captured in words or in a picture.
Apparently all I have to do is to enjoy it
09-02-2023
Longings
Halfway through my book Wholeness Complete, I wrote about a letter I composed to the enlightened being within myself.
In that letter I discovered a hungry being inside me that was never satisfied with the love she received and who always wanted more.
I used to judge myself for this.
In the meantime it is clear to me that love is eternal and that we always feel the need for the fulfillment of this love.
Our longings are welcome.
They show us the way.
17-01-2023
The miracle of life
I am looking at the ocean with her turbulent waves.
Pondering on who I am to perceive this and live this.
The infinite sky, birds flying by,
the earth to whom I belong, the rocks.
This house, so trusted after 20 years of caring for her and she caring for me.
Was I led to be here or did I choose?
I never could have imagined a house so abundantly fitting for me.
Someone else dreamed her into being and left her for me to find.
This miracle called life, my mind doesn't understand.
Maybe we don't need to explain.
just live the life that has been given to us and take the next step.
30-12-2022
Musings
I sit on my couch in the living room of the house where I have lived for more than 50 years.
To my right there are two candles and a small Buddha statue.
On the other side I have a view of the garden.
I love to look at the tall, swaying trees in the neighbor's yard.
Now that it is winter I can see the sky through the branches and birds flying by.
How privileged I feel with all this familiarity around me!
So often I think of people who are cold and for whom it is war...
These thoughts sometimes make me feel like I'm falling short.

I just bought a colorful bouquet of tulips with a few glitters in it for the transition to the new year.
And I am musing on what I wish for all of us.
I wish for everyone prosperity, and peace and safety...
26-10-2022
Diptych of a man and a woman
The desire for the masculine continues to play a role in my life.
Now a man appears in this diptych.
I like it when my inner process shows up in my paintings.
It helps me to get more clarity about a theme.